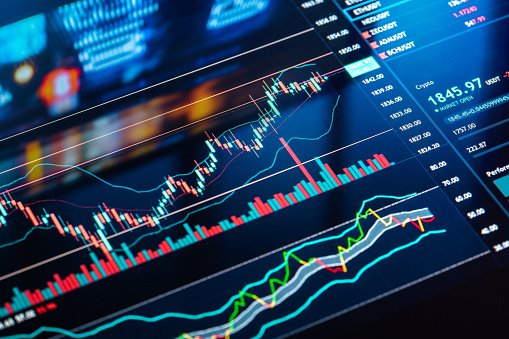 April 19, 2022
Data Breakdown March 2022
The first quarter of the year is already done and dusted. Australian dwelling values in that time have risen 2.4%. Comparatively to 12 months ago this rate of growth was 5.8% in the first quarter of 2021. The nationwide property boom is over, with markets now segmenting and reminding us that the Australian Property Market is not just one market.
Sydney is currently showing large signs of a slowdown, recording growth of only 0.3% for the first quarter of 2022. Melbourne is also seeing a slowdown, with growth of only 0.1% first quarter of 2022. Affordability is a factor relating to this slowdown combined with higher advertised supply and sales activity down.
Capital cities with more affordable price points have seen far stronger growth for the first quarter of 2022. For example, Brisbane saw growth of 6.4% and Adelaide saw growth of 5.7% over the last 3 months. Both Brisbane and Adelaide have experienced increased sales volume over this period.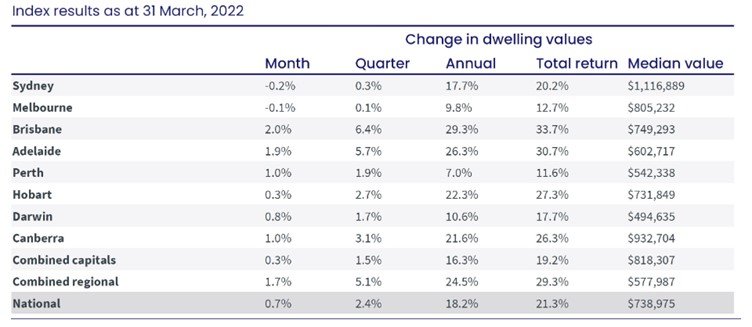 Brisbane recorded 2.0% growth for the month of March 2022 alone, higher than February where Brisbane saw 1.8% growth. Adelaide saw 1.9% growth for the month of March, higher again than the month of February where Adelaide saw 1.5% growth.
Sydney saw a decline in price growth of -0.2% for the month of March 2022 and Melbourne saw a decline of -0.1%. I may sound like a broken record, however, this is where it is important to remember that the Australian property market is not one holistic market. It's crucial to understand where markets are at currently, and factors contributing to the growth or decline in these markets.
Nationally, the advertised inventory levels are 30% lower than the 5-year average over the 4 weeks ending March 27th. However, each capital city is reflecting different levels of stock.
Melbourne is currently 8% higher than the 5-year average. Sydney only 2.6% higher than the 5-year average. These higher stock levels are being experienced due to above average number of listings and a drop in buyer demand.
Brisbane and Adelaide on the flip side are seeing stock levels 40% lower than the 5-year average and 20-25% less than a year ago. Remember that low supply and high demand drives growth, as a purchaser it can be challenging to purchase in these markets. This is where relationships with agents are crucial!
Stock levels aren't the only factors supporting the growth around the performance of the Brisbane and Adelaide market and these markets are not done with their growth cycle. Interstate migration, infrastructure spending, low vacancy rates and affordability being factors that will continue to support their performance. Not to mention the new round of first home buyer incentives that will continue to create further demand, pressure on price and international migration with borders opening again. International migration will initially create more pressure on the rental market, and then will flow on to the purchasing demand in the future.
If you have any questions regarding this month's property data or would like to ensure your next investment property is in the right market and performs in the way you need it to for your circumstances, please reach out to us at tayloredpropertywealth.com.au. We would love to catch up with you and work together as a team to help you secure your next investment property.