August 8, 2023
House prices set to decline!
We have heard it everywhere over the last year!
Mainstream media and the banks predicting massive falls!
Yet, now they are starting to change their opinions to price growth not declines!
Below are just a short number of articles that have been released in the last 18 months showcasing these predictions.
Anz predicts massive drop in housing prices!
https://www.9news.com.au/national/house-prices-to-fall-20-per-cent-in-2023-anz-predicts-australia-capital-cities/13017fe4-9756-4dfa-89d7-87ad4a695531
CBA predicts house prices to drop in 2023!
https://www.news.com.au/finance/money/cbas-head-of-australian-economics-predicts-house-price-drop-for-2023/news-story/e49abbe419d30954a16ed9857d74618b
CBA forecasts 15% decline in house prices by mid 2023!
https://www.investordaily.com.au/news/51946-cba-forecasts-15-decline-in-house-prices-by-mid-2023#:~:text=The%20bank%20now%20believes%20prices,reached%20in%20April%20this%20year.
ANZ, CBA and Westpac all predict house price falls in 2023!
https://www.comparethemarket.com.au/news/anz-cba-westpac-all-predict-house-price-falls-in-2023/
NAB updates it's prediction from 2.2% decline for Sydney to a 6.9% rise!
https://www.afr.com/property/residential/sydney-house-prices-to-rise-12-per-cent-over-two-years-nab-20230720-p5dpuz
Any how many of them were right?
About zero..
And that includes economists from some of the major banks in Australia!
Core Logic on the 1st of August confirmed that July 2023 marked the 5th month of price growth and recovery.
The home value index showing a floor in February 2023 and as at the 31st of July 2023 is up 4.1%.
That is a 9.1% decline in the Home Value Index from the peak in April 2022 to February 2023.
Now remember as well that there are still markets that have gone on to perform during this period of time.
Why is it so important to reflect on this?
Well, there is massive lesson in this!
And, that is to not get sucked up in the mainstream media noise and even the economists of the major banks.
They really have no clue!
What do we know?
We know that all capital cities dwelling value are higher now than at the start of the pandemic, despite each capital cities respective peak to trough.
When holding property long term you'll go through booms, and you'll go through troughs.
Those who are sophisticated, level head investors will not get spooked by the noise and chatter.
What else do we know?
We also know that over the last 30 years house values in capital cities have increased 453%.
As soon as you look at the last 30 years the short term troughs don't seem very scary at all.
This data showcases the results investors who take a long term approach to investing and leverage the largest asset base will achieve.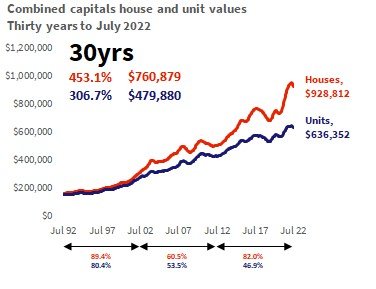 It's a super exciting time as an investor, due to the underlying supply and demand issues that are occurring within Australia.
Do you want to take action and purchase a high quality investment property?
Reach out today and we would love to discuss the opportunity of working together.
https://tayloredpropertywealth.zohobookings.com/#/customer/bookdiscoverycall