May 30, 2022
Past growth vs Future Growth
When it comes to property investing, one of the most important aspects is selecting an asset that is going to achieve capital growth in the short term, so that you can leverage this growth/equity to purchase another property sooner.
Many people believe that if an area has performed well over the last 10 years, that it will perform similarly over the next 10 years. They also believe if a property hasn't performed well over the last 10 years, that it isn't going to perform well over the next 10 years. It's important to remember that one individual market can't always be on the up, it will have periods of huge growth, periods of stagnation and periods of correction. This is inevitable, and as an investor you should understand and be comfortable with this. Your mindset must be strong and not let outside noise and fear cause you not to act.
Today, we are going to unpack that myth and analyze past data and use this as a tool to identify the truth. History can arm us with the tools to have an educated idea on what the future performance of different cities across Australia will look like.
Let's take a look at the following data, this is comparing two different periods of time and the growth that each of the capital cities experienced over these periods of time.
Growth 1993 to 2003.                                                        Growth 2003 to 2013.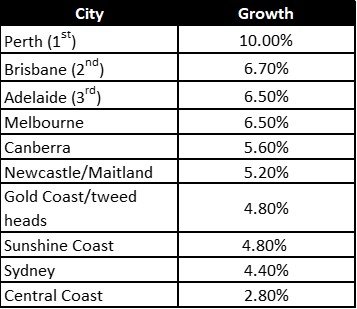 Now looking at this data you can see that from 1993 -2003 the top performers were Sydney (10.4%), Central Coast (10.1%) and Melbourne (8.6%). It is interesting to note that 2 of the 3 top performers from 1993 – 2003 were last and second last from 2003 – 2013. Sydney with 4.4% and Central Coast with 2.8%.
The top performers from 2003-2013 were Perth (10%), Brisbane (6.7%) and Adelaide (6.5%). It is interesting to note that 2 of the 3 top performers from 2003-2013 were the last and second last in terms of growth from 1993 to 2003. Adelaide with 6.9% growth and Brisbane with 6.1%.
When analyzing data, it is important to look at a number of different points in time to see if trends are consistent over longer periods. This way we can trust the data and have more confidence in these trends that are showcased over 20-30 years.
Growth 2001 to 2011.                                                          Growth 2011 to 2021.
Now you can see from the years 2001 to 2011 the top performers were Brisbane (11.8%), Perth (11.7%) and Adelaide (11.1%). It's interesting to note again that the three top performers from 2001 to 2011 are now the bottom performers from 2011 to 2021. Brisbane (4.9%), Adelaide (3.7%) and Perth (1.3%).
The top three performers from 2011 to 2021 were Central Coast (9.2%), Sydney (8.4%) and Sunshine Coast (7.6%). Two out of the 3 top performers of 2011 to 2021 were at the bottom from 2001 to 2011. The top 4 performers from 2001 to 2011 were the last 4 performers from 2011 to 2021.
What can we take away from the above data?
This data shows that no individual market is always going to maintain the top spot, and that timing and the position within the property cycle, will determine which location is likely going to be one of the best/worst performers.
Over time, when certain markets perform well, they start to become more expensive than other areas. Individuals in these markets start to reach their borrowing capacity limits and this prevents these markets to continue as top performers as demand decreases and individuals shift their focus to more affordable areas.
Affordability comes into play and the markets that haven't performed as well recently become the top performers. More individuals focus on the affordability as they can select a similar asset at a far lower cost. These markets see infrastructure spending, population growth and increased demand from investors and owner occupiers.
It's impossible to time the market to a tee, however, looking at this data we can make more educated decisions around where to invest.
Long term, there is very little difference in terms of growth between the capital cities, however understanding what markets will do well in the short term is crucial. If you can select markets that will perform well in the short term, you are then able to use the capital growth and equity created to leverage into further purchases.
As part of our Buyer's Agency, Taylored Property Wealth, we are currently focusing on the Brisbane and Adelaide markets. We understand where we are currently in the property cycle and off past data in the short to medium term Brisbane and Adelaide will perform well. They have already experienced growth, and you haven't missed the ship. There is more growth to take place!
If you have any questions with the information discussed today or you would like to discuss purchasing an investment property, please reach out to us at info@tayloredpropertywealth.com.au.