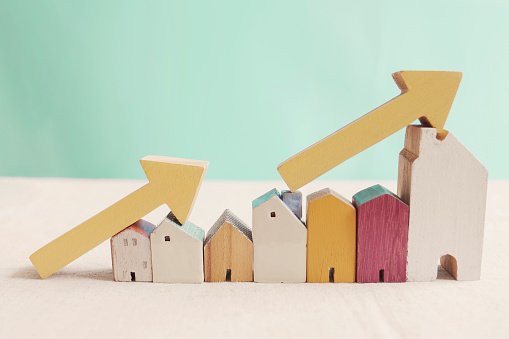 January 18, 2022
YOU WILL WANT TO READ THIS! Today we discuss the factors contributing to the current PROPERTY BOOM and why property prices will continue to RISE!
In this blog I discuss the various factors that are contributing to the current nationwide property boom. The media and some economists are advocating the view that this boom is heavily reliant on the low interest rate environment. Sure, low interest rates are a factor; however, they are one of many factors contributing to the property boom.
What are we hearing in the media?
Firstly, I'd like to discuss what we are currently hearing from the media around property prices. The media is promoting predictions from economists that are instilling fear in the public around the property market. It's important to remember that we must always be mindful of where we get our information, and the media are mostly concerned with obtaining clicks and views.
"A rise in interest rates will push residential property prices down 10% in 2023" – Gareth Aird, CBA Head of Economics. This is a recent statement from the Head of Economics at CBA.
Let's travel back in time to March 2020, where Gareth Aird then stated, "Residential property prices will drop 10% over six months and 20% in the next year led by steep falls in Sydney and Melbourne''. The following results are what transpired over the 12 months following this statement.
Nationwide prices increased 7.5%
Regional Australia increased by an average of 13%
Sydney increased 8%
In February 2021, Gareth Aird then retracted his above prediction from March 2020, and instead predicted "House prices will rise 9% in 2021 and unit prices will rise 5%". Within the first 10 months of 2021, house prices had risen 21.3% and unit prices had risen 12.7%.
Remember to be mindful of who you listen to and who you allow to influence your judgement.
Let's now focus in on the various factors that are contributing to the nationwide property boom currently.
Build up of savings during the pandemic
During the Covid pandemic, many Australians who would normally travel overseas or domestically have not been able to travel and because of this they have saved more money than they usually would.
This increase in savings has allowed Australians to purchase property they may not have been otherwise able to purchase. This has also resulted in more Australians completing renovations on existing properties which are adding value and increasing their equity.
Low vacancy rates
Vacancy rates is a metric used to determine how many properties are currently vacant without a tenant, compared to the total number of properties for rent, in a suburb or area.
When vacancy rates are low and trending lower, this puts pressure on demand for rentals and what follows is an increase to rental yields, which makes it less affordable for renters. Once rentals become less affordable, more people decide to purchase property which creates larger sales activity/volume, and this creates a higher demand and increases property prices.
At Taylored Property Wealth, the vacancy rates in all suburbs across Brisbane that we invest in are currently below 1%. This means for every 100 properties in a suburb there is less than one property vacant. The current average for Brisbane in November 2021 as per SQM research is 1.3%, compared to Sydney sitting at 2.6% and Melbourne sitting at 3.2%.
When looking at vacancy rates it's important to remember low vacancy rates lead to increased rental yields due to high demand. This causes rentals to become less affordable, renters then become purchasers and generate increased sales activity/volume and this is a forward indicator for capital growth.
Return of ex-pat Australians in large numbers
Expats are individuals who live overseas outside their country of birth. Due to the Covid pandemic a lot of expats have moved back home to Australia from where they have been residing overseas. Due to this migration back to Australia this has put increased pressure on vacancy rates as well as sales volumes.
Safety of bricks and mortar in times of uncertainty
Property is one of the less volatile asset classes unlike that of stocks/shares/crypto. This is because unlike stocks/shares/crypto they can't be sold off extremely quickly to get rid of them. If the confidence in the economy or property market goes backwards all property owners can't rush out and sell their property straight away. You must reach out and contact a selling agent, they must appraise the property, put a plan in place for the marketing of the property, list the property and hold open houses to sell the property. This process typically takes a couple of months. Due to this it helps the property asset class as it becomes less volatile and solidifies that it is less volatile.
Exodus to affordable lifestyle trend
Many Australians both during the Covid pandemic and before the pandemic have been making the decision to move to areas that are more affordable in terms of price point. Due to this decision, the areas that are more affordable are experiencing increased demand, and with increased demand comes increased pressure on prices.
As per the ABS, as at 31st of March 2021, Queensland saw an increase in population growth of 43,900, whilst Victoria saw a decrease of 42,900 and NSW saw an increase of 11,700.
Increased spending on major new infrastructure
Infrastructure spending is an important consideration as this creates more jobs and it increases the desirability of an area. People want to live close to these areas and take advantage of the new infrastructure and facilities. It can also increase population growth and interstate migration as more people move to these areas due to the new jobs being created.
These are just 6 important factors discussed in detail that are contributing to the current national property boom. Some of the other factors that we won't get into today are a stronger than expected economy, lower than predicted unemployment, elevated consumer confidence, State and Federal Stimulus measures, pent up demand leading to rising sales activity and low listing levels relative to demand.
If you enjoyed the information contained in this blog, you may want to check out my blog on 'Why should I invest in the Brisbane Property Market'. https://tayloredpropertywealth.com.au/why-should-i-invest-in-the-brisbane-property-market/ This will provide you with some knowledge on the Brisbane property market and why we as a Buyer's Agency currently invest in Brisbane for our clients.
If you have any questions regarding any of the information within this blog, please reach out at info@tayloredpropertywealth.com.au.