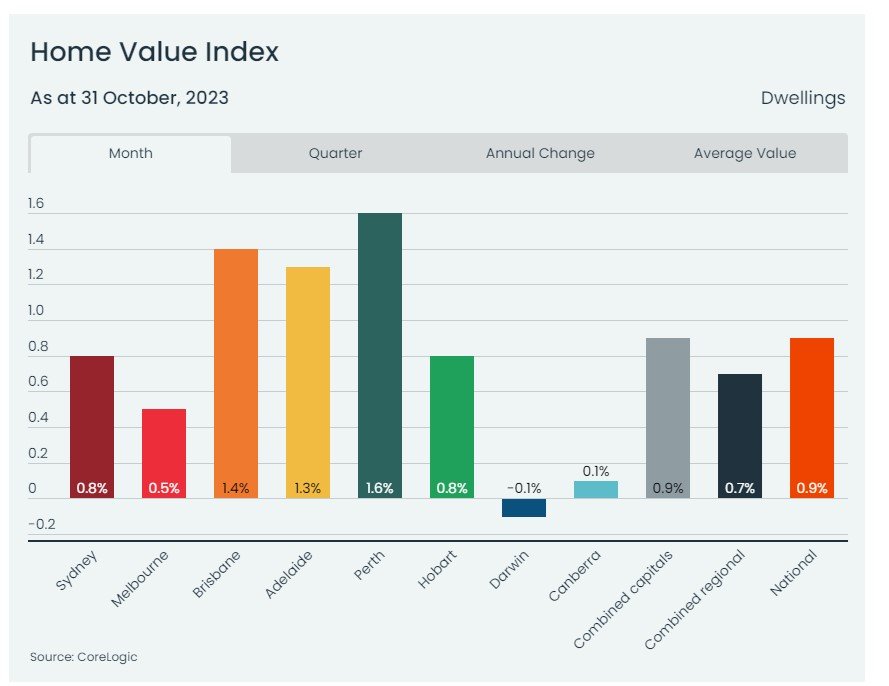 November 1, 2023
Core Logic Home Value Index up 0.9% for the month of October 2023!
Home value index rose again with 0.9% for the month of October 2023!
The HVI is now only have a percent lower than it's historic peak in April 2022 last year.
The national HVI has increased 7.6% since it's trough in January 2023.
Tim Lawless expects the national HVI to reach a new record high mid-way through the month of November 2023.
A rise in values was experienced in every capital city except for Darwin.
Perth out in front with 1.6% growth, Brisbane with 1.4% and Adelaide with 1.3%.
This is no coincidence that these are the markets that we target for our clients.
These rates of growth for Perth, Brisbane and Adelaide annualized at 15% plus per annum.
Over the first 10 months of this year Sydney has experienced 10.9% growth, Perth 10.8% growth and Brisbane 10.2%.
Massively outperforming main stream media noise and bank economists predictions.
Brisbane property values have now reached a new record high along with Perth and Adelaide recording new highs.
Sydney still down 2.2% from it's peak in Jan 2022, Melbourne down -3.7% from it's March 2022 peak.
Regional markets performing under the capital cities with 0.7% growth. This trend across all states.
With the fundamental supply and demand issue we have within Australia prices will continue to trend higher.
Are you going to take action and reap the rewards?
The market won't wait for you, the more you delay the more you will pay.
The more you pay, the more you have to borrowing and the larger debt you will have.